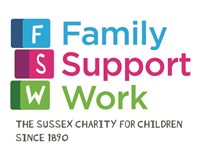 Registered Charity No: 285337
---
Family Support Work has been helping children and their families across Sussex
since 1890
We support children and families through difficult times in their lives including low income and poverty; mental or physical ill health; disability; learning difficulties; school non-attendance and exclusion; bereavement; family break-up and domestic abuse.
We help children and parents/carers to resolve problems, develop confidence and resilience and improve relationships.
We work closely with schools to support children to stay in mainstream education and do well.
FSW also provides food parcels, clothing, household goods and help with winter fuel bills where necessary.
Our aim is to improve children's wellbeing and chances in life.
For more information, visit the FSW website by clicking on the logo at the top of the page!
---
Our Mission
Family Support Work is a faith-motivated charity that provides services to all kinds of families, of all faiths and none. In accordance with Christian values and in partnership with the Diocese of Chichester, we support those in need, rather than passing them by.
We seek to strengthen each family we work with, to provide a safe environment for children and give them the best start in life.
We have no religious requirement for our staff, volunteers or service-users and we do not evangelise or proselytize.
Family Support Workers visit families at home to provide one-to-one emotional and practical support. This includes listening, parenting advice, help to manage money, encouragement and support to find work, referral to specialist services, attending appointments and advocating for families, and providing food and clothing where needed.
Play Workers undertake one-to-one structured play sessions, helping with children's emotional and social development.
Family Support Work was established in 1890 by a group of churchwomen in Chichester.
Like many long-standing charities, FSW has undergone several changes of name and focus, though the aim has always been to help vulnerable children and families in Sussex.
For more information, visit the FSW website by clicking on the logo at the top of the page!